Put Your Print Communications Online
(& inspire your congregation)
Your church communications looks like this in the real world.
Your communications should act like that in the digital world as well. It doesn't if you share it with congregants as a PDF, but it can with Simplebooklet. Check out that same bulletin by Monterey Church in a browser below and what their congregants experience.
Show Me
Read our step by step guide to helping you move your church print communications online.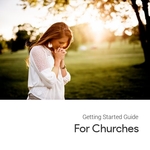 Guidebook

It's designed for those of us with little computer knowledge but a desire to reach our congregations on the devices they use everyday.
That's a way better customer experience. You display your message the way they were meant to be shown and you keep your congregants engaged on the devices they use everyday.
You Lose Congregants When You Share Your Messages As A PDF
PDFs are a terrible way to treat your congregrants. No one wants to open an attachment in an email, save a file on their device (only to forget to also save it on the other 5 devices they also use), or scroll through an uninspiring vertical presentation. Don't believe me? Try viewing the PDF file of the booklet above.
Open PDF (5mb)
That's a pretty big, tedious file. If you're trying to influence your congregants, you need to start sharing your print content online the way it was meant to be experienced.
The Way It's Meant To Be
Simplebooklet can take your print communications, unlock its creative value, and give it digital superpowers.
All you have to do is take the PDF version of your communications that you currently send to your printer and upload it to the Simplebooklet platform. Choose from one of our professional presentations and add your church logo. Put in contact information so your congregants can connect with your church.
Simplebooklet automates everything else. Search discovery is optimized with meta and structured data. Links get activated. Congregants can keyword search for any information in your content. And deep-dive analytics, including realtime Google Analytics reporting, give you the insight to act on congregant engagement.
Try Your PDF
Upload your PDF to try without signing up for an account.

Upload File

Prepare to be impressed.
Reach Your Congregant Everytime
Your new digital content is incredibly easy to get in front of your congregant's eyes. With one click, you can:
Send it in email as a rich html message.
Share it across social networks with a preformatted, eye-catching post.
Embed a page-flipping version in your website or blog.
Install it as a native app on any device for offline access.
Download it to any device.
Post it on your Google map and search listing.
Share it as a Video Teaser (like what you saw at the top of this page).
Your digital content appears on a dedicated, branded church URL you can use anywhere.
Your congregants will be so impressed you aren't wasting their time with another painful PDF.
A Lot Of Churches
There are over 300,000 simplebooklets hosted and shared on the Simplebooklet platform.